If you're in sales, then you know the high that comes from having a particularly great prospect meeting. Afterwards you're excited and filled with energy to take on the rest of the day, and you can't wait to tell your coworkers, or boss, how geared up this prospect is to buy.
The best way to use that energy is to provide an impressive meeting recap for your contact because that follow up is a critical step in the buyer journey. A great meeting is just the first step toward a sale, and the lack of proper follow up from any meeting can be the reason a sale never happens.
When it comes to providing meeting recaps that move buyers towards the finish line, there are a few main points to keep in mind:
Be Concise
You don't need to rehash every detail of the conversation, and if you do, it will probably never be read. Bullet out the main points (Aim for 3 - maximum of 5) to give your prospect clear understanding of what was said and allow any newcomers to the conversation easy entry to the main items.
Be Clear
Make the next steps in the process incredibly clear and concrete. Hold them accountable to what was decided during the conversation and clearly lay out what comes next. Also, avoid use of any internal jargon or acronyms. Make sure that anyone reading the recap will understand what you're talking about.
Be Assertive
Don't be afraid to lead the conversation and the next steps. Share more materials or information that you feel they need to see to set yourself apart from the competition. Guide the conversation the way you want it to go.
Be Attentive
Show that you listened to their needs and specifically list the pain points or challenges that they have previously experienced. You can always start with a template, but personalization is essential to show your prospect that you care about their needs and are able to solve their problems specifically.
Be Better
This is your chance to set yourself apart from the rest. Instead of just an email recap, share a video. This helps to build trust and rapport with not just the prospect you spoke to, but also any newly added C-Suite decision makers. Use the video to outline the main points and then allow text to tell the next steps and other information.
An example of a great meeting recap would look something like this: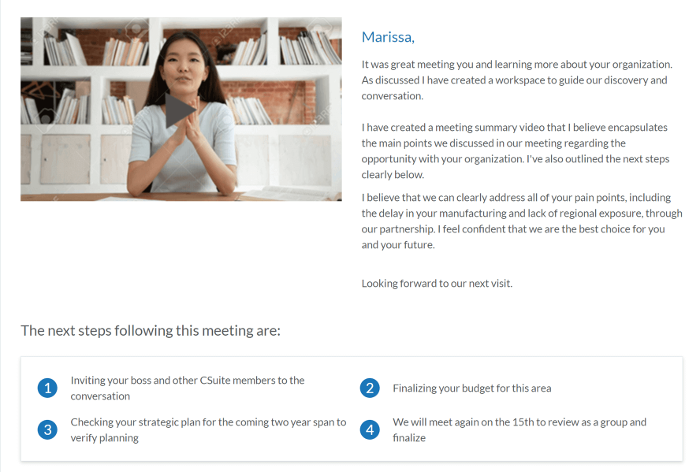 Even more helpful, is if you have a system that allows you to track if someone has looked at your meeting recap and watched your video, so you can accurately gauge their true interest in the project. Those kinds of analytics will allow you to close deals faster and move on quicker when someone truly is a no.
Most of all, remember that a meeting recap is an essential part of any buyer journey. Without it, all that good meeting energy just goes to waste, and you might miss out on the best high of them all, the close!
About Proteus Engage
The ProteusEngage sales enablement platform was designed by sales industry leaders who struggled with complex new business development and current client cross-sell success. ProteusEngage is different from any other sales enablement platform on the market as we leverage a buyer first methodology powered by proven Industry Prescriptions. ProteusEngage's one of a kind Workspaces drive engagement, collaboration, consistency and communication - driving relationships and revenue success.