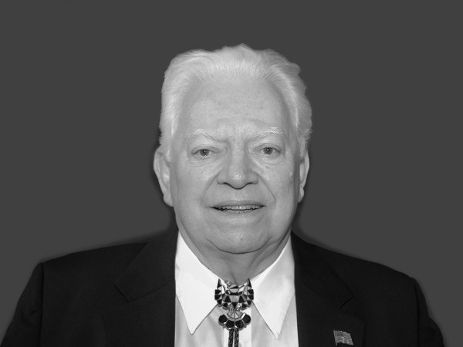 It is with a heavy heart we share the passing of one of Proteus' founders Dr. Don Nelson.
As many of you know Dr. Don had a passion for solving problems - this started in 1967 when he co-founded the Computer Science department for the University of Nebraska - Lincoln. After many successful years of teaching and research, Don wanted to create a way to have a greater impact on society. In 1997 Don launched our company i2rd (now Proteus) with another visionary, one of his then talented students Dr. Muhlin Chen.
Don's leadership and technical wisdom were instrumental in the success of many mission-critical government and industry solutions. His balance of academic research and industry innovation provided a model for success, ringing true in i2rd and since in our quest to launch other disruptive software solutions.
Dr. Don's true impact has been a generous ripple that can be found through his thousands of students, successful business and our many ventures. Though his laugh can no longer be heard in Proteus' hallways, his impact is only beginning. Dr. Don's legacy will continue and is felt in every aspect of Proteus as we mirror his never-ending passion to do things the right way and to see things differently whenever problem-solving. His approach to every situation and strong Midwestern values will continue as a driving force into our future.
On a personal note when I interviewed in 2000 to fill an intern position with the company, little would I know the tremendous impact the founders of Proteus, Dr. Don and Dr. Chen,  would have on my life. I continue to be humbled by the impact both have and continue to have on my life, our community, our clients, and will always remember Don's words of wisdom to 'help' whenever needed and the way he demonstrated this with his students, his family and all those he met.
With Heavy Heart,
Joey Knecht
CEO of Proteus
__________________________________________________________________
Don J. Nelson
August 17, 1930 – January 23, 2019
Don J. Nelson was born on a farm in Stanton County, Nebraska, where he learned the necessity of hard work to solve problems and the values of honesty and integrity.  He received his elementary education in a one-room schoolhouse on the corner of his father's farm (District 50).  After high school, he attended the University of Nebraska, graduating with distinction.  The Korean War started and he took advanced ROTC to finish his bachelor's degree.  He graduated with distinction and was give the Distinguished Military Student Award.  Although he had a military commitment, AT&T Bell Labs asked him to work as a member of their Technical Staff until he was called into service.  In the Air Force, as a 1st Lieutenant, he taught Special Weapons Delivery. After his military service, the University of Nebraska offered him a teaching position in Electrical Engineering where he earned a Master's Degree while teaching.  During this period, he designed and built an Analog Computer for the university to aid in the educational process.  After obtaining his Master's Degree, he received a scholarship award to attend Stanford University for a Ph.D.  He returned to the university in 1961.  Two years later, he was asked to direct the University's Computing Center.  Computer technology was in its infancy then and all departments were anxious to utilize the computer in their research.  The Computing Center, under Nelson's leadership, developed a Law Information Retrieval System for the College of Law, which led to the development of a Bill Drafting System for the State Legislature.  State and national industry leaders came to the center and asked for help.  In 1969, Nelson co-founded the Department of Computer Science.  He served as Director of Computing Center for 1963-1972.  During this time, the Computing Center staff grew from the original five in 1963 to over 100.  He recalls this interval as a high point in his career, working with outstanding employees and furthering the productivities of the University staff and supporting state and national industry.  
In 1972, Nelson returned to Electrical Engineering.  His research career was devoted to helping Nebraska industry.  He developed a Load Projection System for Nebraska Public Power District, secured projects with the Army and JPL and locally developed computer programs for companies such as LT&T, Acton, Pfizer, Talent+ and others.  In 1989, he served as Co-Director of the Center for Communication and Information Science, one of the research centers established with funds secured from the Legislature for Governor Orr's research initiative to promote Nebraska industry.  In 1992, Nelson formed and directed the Research Computing Group in the College of Engineering to sustain the working relationship between the University and industry.  In 1997, this group spun off and became Interactive Information Research and Development (i2rd).  Nelson retired from the University of Nebraska in 2005, after 50 years of teaching and research. 
He is preceded in death by parents, Irvin and Agnes Nelson and cousin, Bob Nelson of Norfolk, NE.  He is survived by his wife, Chloe Nelson who he married in 1994; brother, Stuart (Ellen) Nelson of Athens, GA; niece, Jayna Nelson of Tillson, NY and nephew, Rick Nelson of Austin, TX.  VISITATION Friday, January 25, 2019 from 4-8pm and FUNERAL SERVICE, Saturday, January 26, 2019 at 10am with a visitation starting 2 hours prior at 8am with all services at Lincoln Memorial Funeral Home, 6800 S. 14thStreet, Lincoln, NE 68512. 
Memorials suggested to Eastridge Presbyterian Church, 1135 Eastridge Dr., Lincoln, NE  68510.  Condolences:lincolnfh.com.
About Proteus Engage
The ProteusEngage sales enablement platform was designed by sales industry leaders who struggled with complex new business development and current client cross-sell success. ProteusEngage is different from any other sales enablement platform on the market as we leverage a buyer first methodology powered by proven Industry Prescriptions. ProteusEngage's one of a kind Workspaces drive engagement, collaboration, consistency and communication - driving relationships and revenue success.